I'm reading Nunslinger: The Complete Series, but I thought it would be easier to rate every book as I finish them before I rate all of them as one.
Sister Thomas Josephine or the Six-Gun Sister as she is still looking for Abe Muir. But she has some new companions, a drunken bounty hunter, and an eagle-eyed tracker. But can she really trust them?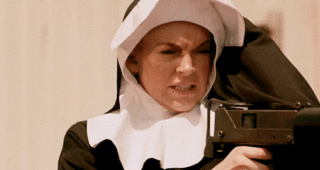 The books are actually getting better and better. But it can be because instead of reading a book now and then am I reading the rest of the books without interruptions.
I received this copy from the publisher through NetGalley in return for an honest review!