I'm reading Nunslinger: The Complete Series, but I thought it would be easier to rate every book as I finish them before I rate all of them as one.
Sister Thomas Josephine is horrified to learn that a false Thomas Josephine is killing innocent people. Who is the false nun and what is the motive?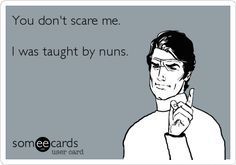 Not many chapters left of this book and the question is, will Sister Josephine Thomas be caught or not? And who is the person behind all the killings that is attributed to sister Thomas Josephine.
I received this copy from the publisher through NetGalley in return for an honest review!