I usually try to summarize the book before I write what I think about the book. This book...you know what...For a moment I failed to see the point with this book. Eh anyway, I will give it a try; Jonah is a young black boy, a musical prodigy that thanks to visions and a women called "Miss Pearl" will try to stop a criminal gang.
This book was not easy to read and it's not easy to write about, mostly because I found the books story lacking. It wasn't badly written, just not interesting. It's the kind of book that takes longer time to read the unusually because part of me just found the book dreary and instead of reading I do other things, even the other books I'm reading at the same time suffers because of it since my mood to read is low.
I still don't understand why "Miss Pearl" is helping Jonah. I mean there must be many violent crimes committed in the city, why him? Is she often helping people, or is it just him? Damn it, I don't understand Miss Pearl and neither did I found her that interesting. It would have been better if he just would have stumbled on the criminals without visions and help from "Miss Pearl". Than it would at least have been an ordinary thriller instead this weird book with a hint of paranormal.
So this was not a happy read for me and I will just let Commodus finish this review: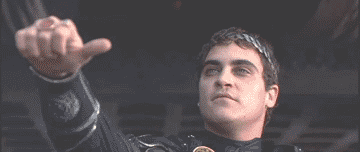 Thank you Netgalley for providing me with a free copy for an honest review!